The Software Industry in the European Union
Copyright © Elkin Fricke, 1997
Boston, Massachusetts
---
The European software industry is extremely interesting, because in the past some of the major software engineering concepts originated there, but the has lost most of the market to the US. Europe is also known for a very formal software engineering process that has lead to high quality software products. Those areas in which Europe's software companies excel are, formal development methods, integrated software support environments, high-integrity systems, national and multinational government initiatives and software quality management. This paper will try to find where Europe's competitive advantages lay in the international software industry and to point out those places where improvement is necessary.
In 1985 the world Information Technology market was generating $48,416 million in sales(1985 dollars) and of this the software market accounted for $26,353 million, about 54 percent. Information Technology has generated about seven percent of Europe's GDP, but consumption of international products created a big trade deficit. The trade surplus in the European Union generated by Information Technology in 1975 of 1.7 billion ECU had quickly tuned into a five billion ECU deficit by 1984. Europe supplies 10 percent of worldwide demand for Information Technology products and 40 percent of its domestic market. The international software and computer services industry including hardware can be broken down into several main players. The European Union (top 17 countries) which is 28 percent of the total market, the US which is 55 percent of this market and Japan with 12 of the market. Europe's software market can be broken down into 53.87% of packaged software and the rest custom. Germany's software and computer services market specifically can be broken down into 62.07% of packaged software and the rest in custom software. US software vendors where the leading suppliers of packaged software in 1994 and are expected to do so in the next few years. Companies like Microsoft have virtually monopolized their home market and widely distribute their products throughout the world. A more detailed breakdowns of the software market can be found in the Breakdown of the Software Industry Worldwide section of this paper.
The world software market generated $26,598 of sales in 1984 of which OECD countries accounted for nearly 96%. By the year 2000 the International software market is expected to grow from $86 billion in 1995 to $153billion. These numbers alone show how important it is for the European Community (European Union) to become competitive in this market, specifically in the software market. Western Europe is expected to grow slower than the international market reaching $45 billion of sales by the end of this millennium. This can be attributed to market saturation and the slower acceptance and adaptation of new software in this market.
Technical barriers in form of different standards and trade barriers in form of tariffs had disintegrated the European Union market during the period of 1960 to 1980. IBM's European divisions were enjoying a 50 percent market share in the software market, while European counterparts where spending about 80% of their R&D in catching up with 'American' technological advances. Europe could not stand still and let the US forever dominate this so profitable market. Leading European industrialists reacted by creating an Information Technology support program in the beginning of the '80s. It was meant to rectify the existent imbalance created by strong subsidies given to the US Information Technology industry by its government.
Irregularities and non-centralization of efforts lead to distinct national monopolies throughout Europe, which had emerged due to local government funding and support. This in turn lead to distinctively different technologies throughout the European Union member countries which made cross border technology transfers impossible. Disintegration of efforts in the European Union's Information Technology market came as an effect of these problems.
In the early 1980s, European Union electronics companies and governments finally began to realize that they where completely loosing the Information Technology market to the US and now also to Japan. The Steering Committee was created by the leading twelve companies in the European Union, to discuss such issues as combined R&D possibilities. The conclusions of this committee's findings can be summarized as follows
Promote industrial cooperation at the pre-competitive stage (basic R&D)
Provide the needed technology infrastructure to be competitive
Find common standard for the Information Technology industry
The European Strategic Program of Research and Development in Information Technology (ESPRIT) was finally established at the end of 1984 after the problematic approval on financing by the British government. ESPRIT was granted a budget of 1,500 million ECU, estimated at £885 million, for the next five years. This budget was spend to jointly research new technologies. Companies could submit proposals for technology research and the ESPRIT board would then choose the most promising ones. Thousands of proposals have been reviewed since.
During this period ICL was one of the large European companies that realized it could not compete in the free market, because it was completely dependent on the preference of its local government. It then began to change its strategy to focus on international (American) standards and to closely cooperate with international firms. It agreed to set up joint research with Siemens and Bull of France which was one of the first attempts outside of ESPRIT to reach economies of scale in R&D and to reduce overlapping development. Collaboration with American and Japanese companies was seen as an essential strategy for success by ICL. Olivetti in Italy faced similar problems and decided to follow a similar path by having several joint ventures and R&D projects. Olivetti later merged with AT&T to exploit each others market penetrations and product lines.
These early attempts to integrate and cooperate with European companies was not enough to change the fate of the European software industry. US companies continue to dominate the Software market, but have lost ground in the Information technology field to companies from Japan and also Europe. Language and cultural barriers continue to be a big inhibitor of a unified software market in Europe, where R&D still overlaps in many occasions. Software can be supplied in three different forms. First, in packaged and standardized format, which is usually considered an intangible (e.g. Microsoft). Packaged software derivatives are customized components for each client (e.g. SAP AG in Germany) or bundled versions with hardware (Compaq). Secondly, software can be found as professional services, those that include training and consulting and third, as processing services which include online information and stand alone data treatment. This last sector should not be underestimated, since data processing expenditure alone (including hardware) constituted 3% of total domestic expenditure in Western Europe during 1985.
Hardware manufacturers have a strong influence on the sales of packaged software market, averaging 54% of domestic revenues in Western Europe during 1985. The US alone exported 30% of its packaged software production and 15% of its customized software to Europe. Direct exports and revenues from foreign subsidiaries in Germany averaged 7 and 11 percent respectively. This shows how big of a market Germany alone is to US multinational software developers. Japan also imported 85 percent of its total packed software sales in 1985, and will become one of the biggest software markets at the turn of the century. The US also send 70 percent of its Information Technology sales to western countries. This indicates that International trade has become one of the major sources of income for US developers. European companies have to therefore analyze why this has become the case and develop similar techniques to become competitive internationally.
The European software industry has long played catch up with American companies and now also with the Japanese. The sheer size of the European packaged software market ($28,970 million in 1995) should make politicians and managers realize that they are missing out on something big (Exhibit 1). Software prices are at an all-time high in Europe, partially due to big customization costs. This is can be turned to a big advantage by local companies, which can develop comparable products at a fraction of the cost. It is not that European companies have not been able to compete in the past, since companies like SAP AG and StarDivision GmbH have battled US giants like Microsoft successfully in their home markets and abroad. This raises the question of where do the potential advantages lie that European software developers could make into their competitive advantages? To answer this question I will break down the problem into these manageable portions, Management Technologies, Processes and methodologies, New tools and approaches, Infrastructure and Specialization, Focus on Reusability and Industry leadership. A recent study (1996) among European software development companies indicated that the nonconformance revealed during ISO certification audits are concentrated within specific areas, typically management attention and motivation, contract review, design planning and control, testing and configuration management. It is considered that improvement in these areas can be best achieved using the ISO 9001 quality improvement methods. Management should pay close attention to employees as they are the primary asset of a development company. Satisfied workers lead to quality products, this is also true in software companies. The findings of this study shows that management at European software firms has been deficient, since it is not the actual process of software development that has been found wrong, but the system that management has set up. Total Quality Management techniques might be the solution to these 'soft' problems. It should become a high priority to address these problems, since problems in the workforce do not disappear on their own, but must be taken very seriously.
Software projects tend to change rapidly. It is very important to have efficient change management, which is a major challenge in any business. Source code is not the only deliverable that changes during the life cycle of a project. Changes in manuals, bug reports and version controls are a major part in the cost incurred by a software house. It is here that European companies can realize a competitive advantage. It is of utmost importance for European software management to minimize these costs to stay competitive, since each dollar saved in development costs adds right into the bottom line of the company. Many tools are now available to track and manage software projects efficiently. European companies should invest in these tools as they tend to pay back their cost in a small amount of time.
Management in general is haunted by problems faced concerning software projects. Common questions are what should be measured and if it is possible to measure something, what implications does it have on the early stages of the development process? All current quality management techniques in practice are heavily based on statistics gathered from the process itself, but this is very difficult with software projects, since no project is similar to another and coding is the primary process, which in turn is very much based on creativity and problem solving abilities of the developer. If European management could find just some answers to these questions, it would make them much more competitive worldwide. Processes and methodologies on the other hand are a much more straight forward way to gain competitive advantages.
Software process improvement is gaining momentum throughout the software industry. A recent conference in Boston drew several thousand attendees and journal articles devoted to it are dramatically increasing. But there are some questions that still have to be answered, like what does it cost to improve software processes? How long will it take to make tangible improvements? What kind of value can be expected in term of better quality, productivity or user satisfaction? It is here where management at European software companies can create another front of competitive advantages by addressing these questions.
Considerable focus should be put on process improvement spending since it is a very new field in the software development industry. Companies should borrow methods from similar industries which have used them for a long time. Microprocessor manufacturers for example have been able to increase weaver size and decrease their scrap rate using TQC techniques, which are easily transferable to the software development process.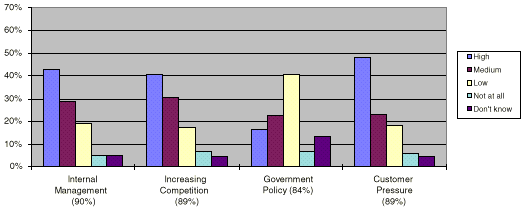 For some time, certification to ISO 9000 standards has been a hotly disputed topic in the software industry. In particular among the software producers it can prove worthwhile to develop its product on the basis of ISO 9000 standards. ISO standards have been successful in many different industries and have become requirements for doing business in many others. ISO certification shows quality consciousness and focus on details to customers, no mater if industrial or consumer. The advantages that can be achieved through good quality practices that can be achieved through ISO 9000 certification will pay back soon for any European company that takes them seriously. The process of ISO certification does not only allow companies to improve products, but points out critical flaws in the system to management. There is no detrimental effect whatsoever on the strength or the flexibility of the small-scale business which use ISO 9000 methods.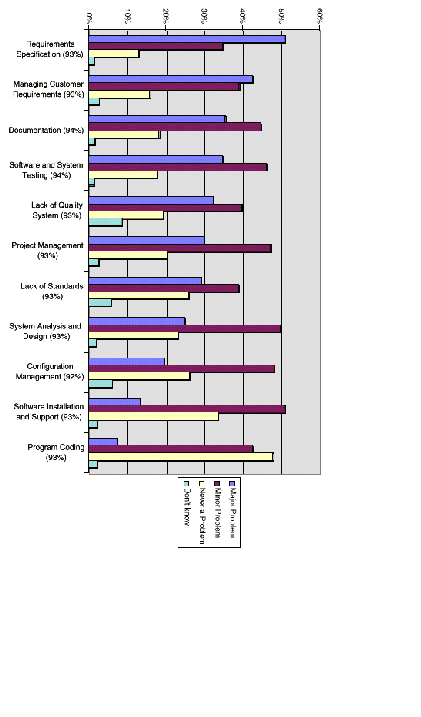 In a recent survey by ESI (European Software Institute) and ESPRIT, several problems where detected in the European software industry. The most important findings can be summarized as:
requirements specification (greater than 50 percent of interviewed)
managing customer requirements
and other major problem areas found to be causing concerns where:
documentation
software and system testing
lack of quality systems, lack of standards
project management
Already knowing these problems makes it much easier for European management to compete. It is now in their hands to push for specification standards throughout Europe and to manage better customer requirements. A company which has done this very successfully is SAP in Germany. They have been able to customize their R/3 flagship business management software for every company, to the extend that Microsoft has hired their services to install R/3 for its own corporate computer systems. It seems that customization and customer intimacy are the prime variables that European companies should push to become more competitive worldwide.
The internationalization of software occurs similar to any other tangible product, usually through direct exports, licensing and foreign subsidiaries. The GATT Committee on Customs Evaluation in 1984 decided that the customs value of software was on the carrier medium and the cost of software itself should not be taken into account in the declared value of the product. This makes it much easier for software to be shipped worldwide.
The US government has always been the leader in providing their software industry with the best infrastructure, making them much more competitive. The Internet was again born in the US, but countries like Germany, the UK and Australia quickly realized the economic value of this new medium and have caught up. But it is not copying American infrastructure that will allow European companies to be successful. Europe must provide its companies with ways to communicate and transfer technology with each other. Much more investment must be put into research at Universities and to allow for quick diffusion of these technologies to the European Information Technology sector.
European companies have not yet realized what big opportunity the development of globalization is giving them. Alone the potential of niche markets evolving around the world could make many European companies leaders in these markets if only targeted correctly. Here again, customization and standardization have to be carefully weight against each other to find the perfect balance.
As mentioned under Management Technologies, it has become of utmost importance to find ways to decrease costs. Just by keeping close watch on source code reusability and quality control, it is believed that software project delivery can be reduced from an average of 18 months to 5.5 and the volume of reusable material should rise from 15% to nearly 65%. Reusing source code leads to an optimum ROI of future projects, since no costs are incurred but a new product or service can be offered.
European software companies are known for their formal engineering approach to software development. This must not be a disadvantage as many would argue because of lack of flexibility, but can become an economic advantage, if managed correctly. SAP is again a good example of this concept. Their software has been criticized by many analyst as being of typical German over engineering, but it is exactly this, the focus on detail and the customization options, that attract more and more companies to switch their management information systems to R/3. Formal software development allows for reusability of all materials in the process, leading to direct cost reductions in the short and long term.
In march 1997 several international businesses including Mercedes Benz, Hewlett-Packard and IBM signed a letter of intend to make Software-Zentrum Boeblingen/Sindelfingen ("Software Center") Xybernaut's lead European application development center for its wearable computer systems and is supported by the German Federal State of Baden Wuerttemberg, the German Chamber of Commerce, through cooperation of government and scientific institutions, and private industry. Member companies of the Software Center have developed solutions for production, automation, control, design, image, workflow, re-engineering tools, multimedia, and virtual reality for clients that include Mercedes Benz, Hewlett-Packard, IBM, BMW, Porsche, and Siemens. For example, members are creating and integrating communication process automation, production control, test and measurement, and structural analysis programs for use in manufacturing of automobiles, computers and consumer electronic devices. It is these kind of cooperation and integration that is strongly pushing the German software industry into the international market. The fact that the government is fostering and supporting joint ventures in the field of R&D for software and hardware development shows their commitment to the industry.
Government and trade organizations have great power on the future of the European software industry as can be seen in the above example. The European Community can easily attain competitive advantages by helping individual industries by setting standards and developing organizations such as the ESI. Companies, such as Siemens and Bull, showed that there are software fields where Europe can excel. It is now in the hands of European governments to foster environments where European companies can enter into joint ventures and combined R&D to reach the economies of scale already existent in the US.
We have found, that Europe has great potential to become a strong player in the international software development market. Not only do existing European companies have a potential, but mergers and new subsidiaries from companies all over the world have found a great market and labor force in Europe. England, Scotland and Ireland are the base to many US conglomerates that sell and develop software throughout Europe.
ISO 9000 and other TQC tools should be employed by any European company which wants to become more competitive. Strong focus on reusability of materials should be placed throughout the development process to reduce costs and project budgets, as well as increase the customizability of products. European companies have to pay close attention to emerging niche markets and heavily spend on combined R&D to reach American economies of scale.
It is to the advantage of all members of the European Community to come together even more than before. The European Union should foster the development of standards and increase cooperation between research organizations throughout the continent. New jobs will be created and old ones secured if management and politicians focus on the problems described throughout this paper. As a unified block and focusing on internationalization of software products, Europe could have great future competing in the worldwide software market. The format followed in this research paper was borrowed from Capers Jones' paper on "The economics of software process improvement". It will allow for better analysis of the relevant facts and apply them in context of the global software industry. Capers Jones; "The economics of software process improvement", Computer, The Computer Society, p. 95 - 97, January 1996, USA
US Global Trade Outlook: 1995 - 2000
Jowett, Pauland and Rothwell, Margaret, "The Economics of Information Technology", 1986 St. Martin's Press, NY
Reuters, "PC software prices sky-high in Europe", Chicago Tribune, 6-30-1991, p. 6
Loken, C.B.; Skramstad, T., "Proceedings of the ESA 1996 product assurance symposium and software product assurance workshop (SP-377), p. 295-301, 19-21 March 1996
Capers Jones; "Software change management", Computer, The Computer Society, p. 80 - 84, February 1996, USA
Richard H. Thayer and Andrew D. McGettrick; "Software Engineering: A European perspective"
Jones, C; " The economics of software process improvement", IEEE Computer Society, January 1996, USA
Schoder, M; Wilhelm, R., "Enhancing flexibility. Experience gathered in the generation of a quality system to ISO 9000 in a small-scale software firm", Carl Hanser Verlag, May 1996, Germany
European Software Institute, "ESPITI - European User Survey Analysis", 1996
Organization for economic cooperation and development, "The internationalization of Software and computer services", 1989 Head of Publications OECD, Paris
Karen Thomas, Thomas Public Relations, Inc.; "XYBERNAUT ANNOUNCES STRATEGIC ALLIANCE FOR EUROPEAN SOFTWARE, MARKET AND BUSINESS DEVELOPMENT", Alan Stone, Alan Stone & Company, March 12, 1997
Calbreath, Dean, "'The accent is on Europe' for High-Tech Firms", Washington Business Journal, 4-30-90, p. 19
ESI, The White Book on Software Engineering Practices in Europe, European Software Institute, 1994, 1995
Vincent, S. Lai, Reeh, Bernhard and Guynes, Jan L., "The Progress of ISDN: In Germany and Beyond", Journal of Global Information Management, Spring 1996, p. 16 - 24
"Offshore Programmers: Remedy", Computerworld, November 1993
Johnston, William B., "Global Work Force 2000: The New World Labor Market", Harvard Business Review, March-April 1991
Curley, Kathleen F., Meyer, Marc H. and Sorensen, Erl V., "A comparison of US, Japanese and European Software Development Practices and Processes", Journal of Global Information Management, Summer 1996
Eisenstodt, Gale, "That is where the money is", Forbes, January 18, 1993
OECD, Software Engineering: The Policy change, Organization for Economic Co-operation and Development, 1991
OECD, Internationalization of software and computer services, Organization for Economic Co-operation and Development, 1989
OECD, Software: An Emerging Industry, Organization for Economic Co-operation and Development, 1985
Pine, Joseph, II, Mass Customization: The New Frontier in Business Competition, Harvard Business School Press, Boston MA, 1993